Concrete Flooring Contractor San Jose CA: Decorative Concrete Resurfacing, Refinishing, and Repair
San Jose Concrete Resurfacing offers superior decorative concrete solutions to restore your concrete surfaces and give them updated looks that will definitely take everyone's breath away. We offer a wide range of options when it comes to color, pattern, and material, After we are done, no one will ever believe it is as economical as it is.
Living in one of the wealthiest cities nationally and globally, San Jose, CA residents and commercial space owners are used to luxurious designs with undeniable durability and function. This is what we are all about. The only difference is that we provide all the expensive appeal, function, and durability at affordable costs. Decorative concrete is indeed one of the best things to happen in the remodeling industry. It allows people to dream of high-end concrete patios, pool decks, and driveways and actually acquire one without breaking the bank.
Few facts about Flooring San Jose Concrete Resurfacing
No matter how many paving or flooring San Jose , CA materials become available today or in the near future, concrete will always be a reliable option.
When it comes to residential concrete and commercial decorative concrete, you can count on us. Here are good reasons why:
Assessments & Consultations on Decorative Concrete
It is our pleasure to provide helpful information to potential customers, whether they have already hired us or not. We know that it isn't easy planning a floor remodeling project. There are numerous patterns, materials, and design options available, all of which are so desirable it's hard to choose just one. We are here to help. We keep our clients as informed as they possibly can. This way, they make sound decisions and they acquire what it is they really want on their concrete surfaces.
Once you call us, one of our commercial or residential flooring San Jose, CA staff will schedule an in-home consultation appointment. The consultation will involve a discussion of what you have in mind, what we can offer, and a quotation. Before we give you a quotation, we evaluate the part of your property that needs concrete resurfacing or refinishing. We measure the area, take into consideration the type of service needed, materials, labor, and any other add-on service you may request.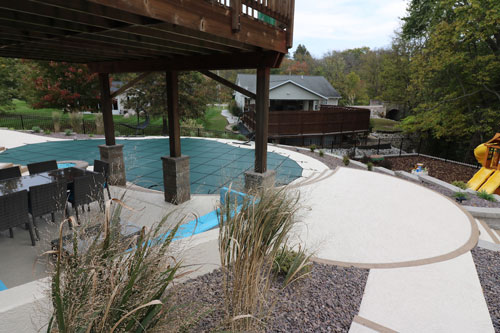 Specializes in premium decorative concrete solutions;
We hire only the best installers in town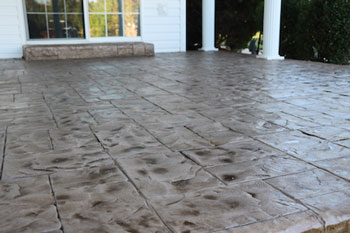 Stamped Concrete
Adding texture and patterns on new concrete or concrete floors with existing overlay perfect for outdoor surfaces, such as patios, pool decks, and driveways. The stamped concrete overlay is stamped with patterns and then stained to mimic the look of brick, flagstone, slate, tile, and more.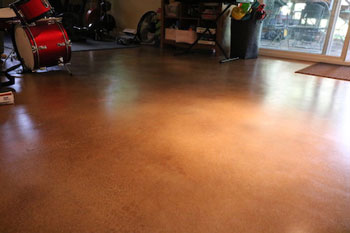 Stained Concrete
Concrete stains come in acid and water-based types. Acid stains are available in various earth tone colors, whereas water-based stains come in many different vibrant hues. This can be used on its own or together with other resurfacing materials on both interior and exterior surfaces.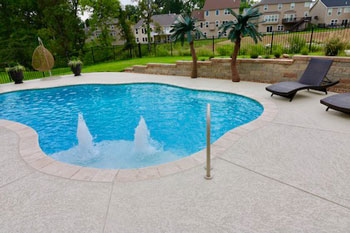 Knockdown Texture
Spray Knockdown Finish System is known for the texture it creates after it has been sprayed and manually troweled. The cooling and slip resistant features makes it a perfect option for pool deck resurfacing. It is also ideal for adding texture in concrete patios and driveway.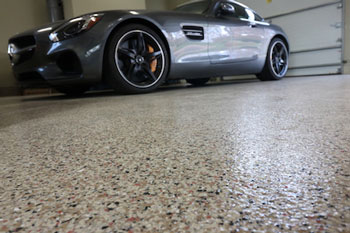 Epoxy Flooring
Garage floors need to be super tough and durable to withstand impact, weight, grease stains, and other common concrete floor issues. Epoxy is part resin and part hardener then, when mixed together, cures to an extremely hard plastic.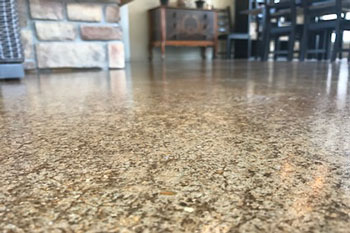 Polished Concrete
Concrete Polishing is another ideal option for property owners who want an affordable and versatile concrete coating option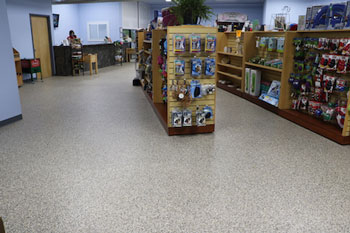 Polyurea Polyaspartic
For urgent concrete repairs, polyurea polyaspartic is the best solution. This fast-drying coating is often used for industrial concrete floors because of its exceptionally tough and long-lasting surface.