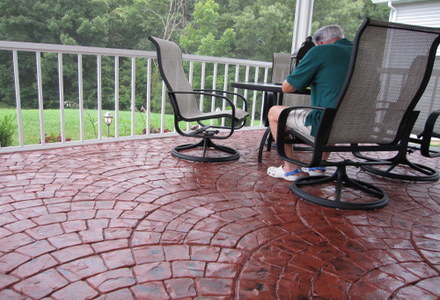 When one thinks of coziness and comfort, it is often associated with everything indoors in. However, a comfortable San Jose CA living space can be extended outdoors through a patio San Jose. No amount of furniture and pillows would be able to complete the look, though. The surface itself needs to look extra special and welcoming to make anyone want to hang out outdoors a little bit longer. No need to dispose of the existing slab. By simply resurfacing the surface with a decorative coating or overlay, the level of aesthetics and function is immediately raised several notches higher.
Resurfacing or refinishing a patio in San Jose is a practical method of enhancing an outdoor living space. It uses affordable and eco-friendly materials, requires less time to install and less downtime, and it presents a broad range of options when it comes to design, texture, and color.
Features of a Decorative Patio Concrete
Durable – Who knew that a patio can be highly durable with just a minimal investment? Resurfacing the surface allows the existing slab to be reused and strengthened with a coating or overlay.
Appealing – With the wide selection of stain colors and stamped concrete designs, there is something for everybody. Regardless of what pattern or color is chosen, a patio's appeal level is undeniable. Stamped concrete overlays can be combined with concrete staining solutions like acid stain.
Easy to Clean & Maintain – If your San Jose CA patio requires expensive cleaning products and time-consuming maintenance regimens, then it may not be such a worthwhile investment after all.
Economical – The cost of patio resurfacing is a bit more inexpensive but the benefits surpass the investment.
Ideal Applications for Patios: Stamped, Stain, Knockdown Texture
Ideas are often too good to be cheap or too cheap to look good. Decorative concrete resurfacing provides the best of both worlds: minimal costs, maximized aesthetics. Here are some recommended overlays to turn old, boring patios to heavenly outdoor living spaces:
Stamped Concrete Patio in San Jose- Add more visual impact by stamping slabs. Not only will it provide appeal, it will also make the patio more slip-resistant and valuable.
Stained Concrete – Whether it is acid staining or using the water-based type, stains will always be the simplest way to enhance the look of any surface.
Spray Down Concrete System – One of the most popular decorative coating for outdoor use, acrylic cement coating stays 30% cooler than most types of paving materials.
Patio Concrete Installation Cost
One notable benefit of resurfacing or refinishing a patio is that it is more affordable than other options like installing new concrete. However, there is no fixed rate as there are many factors that could affect the total cost. The price could go higher depending on the size of the job, the type of coating used, how much surface preparation is needed, and any additional services done to acquire a custom look.
Explore your patio resurfacing, refinishing and concrete repair options. Call (408) 709-7256.
When it comes to outdoor San Jose California entertainment, the patio is always the best venue to hang out or gather with family and friends. A patio may be plain and boring but not if it is optimized with decorative concrete. But don't just trust any patio concrete contractor in San Jose. Look for concrete contractors in San Jose with reliable experience and concrete work expertise. San Jose Concrete Resurfacing has all that and more. We make sure that each and every project we handle becomes a memorable experience for the customer. Give us a call today. We'd love nothing more than to provide you with more information and a free quote to help you make a sound decision.