Concrete Resurfacing San Jose CA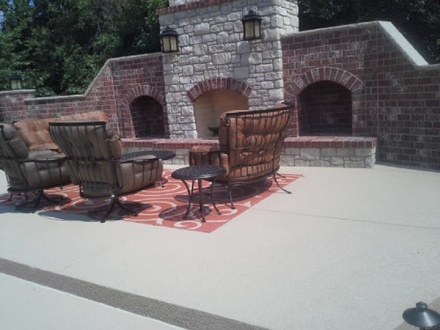 Over time, a concrete driveway will start to look drab. The mere sight of the patio will make you cringe. But before you hire a contractor to redo the entire concrete slab, there is one option you may want to consider: Concrete Resurfacing Bay Area. This exterior and/or interior flooring option provides a broad range of solutions that property owners can choose from. It has a variety of patterns, colors, and designs to match every design preference and all price points. Another option for your driveway is concrete refinishing, which you can find more about on our site.
Aside from the broad range of aesthetic options, resurfacing overlay and coatings are also durable and long-lasting. As long as properly installed, it could maintain its look and function for a couple of years to a decade or more. Property owners would be glad to know that resurfacing a concrete pool deck does not require any special cleaning or maintenance routines even concrete patio resurfacing. A stamped surface, for example, have cuts and gaps that do not cut all the way through the surface, preventing dirt from accumulating and unpleasant weed from growing.
Exceptional Concrete Overlay and Coatings
Whichever look and functional features you are looking for, there is a corresponding option that will provide that and much more. Decorative concrete overlay and coatings can provide great aesthetics and other essential features, making it a worthwhile investment.
Stamped Concrete Overlay – Brick and natural stone exude an old-world, timeless look that most property owners admire. For those who want the same look without the expensive price tag, a stamped overlay is a highly recommended solution. Other popular patterns include ashlar, cobblestone, flagstone, fractured slate, and more.
Spray Knockdown Texture– Usually, decorative concrete coatings are poured and spread on the slab with a roller brush. Not this. The acrylic decorative concrete coating is loaded into a hopper gun and sprayed on the slab, creating a texture that is stunning and slip-resistant. This coating is also known for its ability to maintain a low temperature and is commonly used on existing concrete pool deck.
Epoxy Flooring Contractors in San Jose, California– Epoxy is a mixture of resin and hardener that cures to a very tough and seamless surface. This is a highly recommended coating for garage floors, basements, commercial flooring, and industrial concrete spaces.
Polyurea Polyaspartic– Similar to epoxy, this coating also creates a sturdy and very durable surface. Unlike epoxy, it can be used both indoors and outdoors. Also, it is a fast-drying material. It can be installed in one day and walked upon the next.
Work with an expert decorative concrete contractor. Call us at (408) 709-7256 today.
San Jose Concrete Resurfacing is a premier decorative resurfacing company that specializes in resurfaced driveway, concrete repair, patio and pool deck resurfacing, and many other solutions. Our team knows how to perform concrete repairs efficiently, thanks to the decades of experience we have had in the industry. We know how frustrating it is to have to shell out big bucks to take care of damage. However, we guarantee that the cost of our services are worth the minimal investment. Let's talk. Call us.
This depends on the type of material and the installation method. But usually, it takes just a day or three to complete a job depending, of course, on how large the space is and how complicated the process is. Polyurea polyaspartic, however, is an exception because it is a fast-drying material that dries in a few hours and completely cures in just a day.
The total costs vary. Factors that could affect costs are the size of the concrete space, the type of resurfacing system chosen, if repairs or grinding are needed, and if the customer specifies a custom design.