Concrete Refinishing San Jose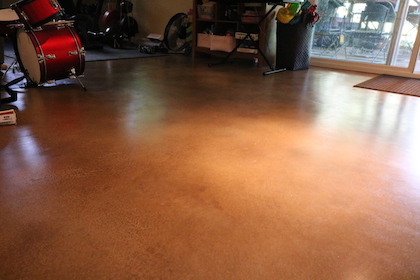 Concrete is a very porous material. The stains it acquires become ever so stubborn because they are often absorbed into the slab. This is why no matter how much scrubbing or cleaning is done on the stain, it won't budge. There are many ways to deal with a stain. You can paint over it, but this is temporary and the paint can peel off or fade away. Fortunately, the stained slab can be refinished. Concrete refinishing in San Jose, CA is a highly recommended decorative concrete method of making an old slab look new and function better.
San Jose Refinishing is the process of applying a new finish. On concrete surfaces, changing the finish improves its appearance. Some refinishing methods even make the existing slabs more durable and resistant to damage. This is a great option for property owners who want to cover up ugly stains and discoloration or merely to acquire a more visually appealing space.
San Jose Decorative Concrete Options for Indoor and Outdoor Use
For a San Jose pool deck refinishing project, patios, driveways etc., a decorative concrete contractor first evaluates the existing slab to determine if it is qualified to be refinished. If there are deep issues and the surface is badly damaged, then a concrete resurfacing San Jose or replacement would be more appropriate. Here are the various refinishing options and a brief description of each:
Concrete Staining – Colored concrete has been gaining popularity these past few years in San Jose, CA. Staining it with an acid or water-based solution is highly recommended because the color penetrates the surface of the slab, making it adhere better and last longer. This is effective in covering ugly stains and disguising unpleasant discoloration. Acid stains create random effects while water-based types produce consistent colors. It can be installed on pool deck, patio, driveways, and other interior floors.
Polished Concrete – The polishing process does not require the use of any material or product. Instead, it uses a polishing equipment that sands off the top layer of the slab and exposes a bit of a layer underneath. It is then polished to a shine that stays shiny even without waxing and buffing.
Concrete Resealing – Most porous materials, garage floors and concrete driveways, need to be sealed. This helps prevent dirt, moisture, chemicals, or anything similar from getting absorbed into the pores. However, sealers only last for about a couple of years. So, if it starts to fade out and turn dull, a resealing is necessary to renew the protective layer. Click here for concrete driveway overlays and coatings and garage flooring ideas.
Want to know if a concrete refinishing project is right for you? Give us a call at (408) 709-7256 today.
Hiring the right contractor in San Jose, CA can be quite a challenge. If you are looking for a reliable and efficient San Jose concrete refinishing company to handle your project, then San Jose Concrete Resurfacing is the name to trust. We have a team of experts that make use of top-notch tools and equipment to make every project a success.
We're here to talk about outdoor and indoor concrete floor finishes whenever you're ready. Pick up the phone and give us a call. We'll schedule you for an in-home consultation, free of charge. We also offer concrete resurfacing, pool deck resurfacing, stamping, concrete repair, concrete staining, and other decorative custom concrete services for concrete pool deck, patio, driveway, basement, and other concrete floors!
Contact us today!