Concrete Repair San Jose CA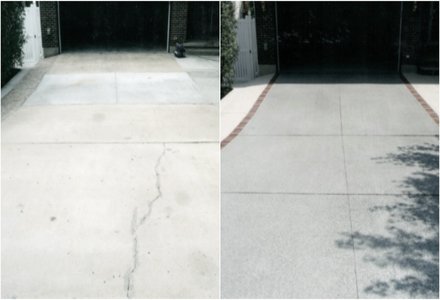 The old tradition when it comes to old, damaged concrete flooring is to pull out the old one and re-pour a new slab. This is still done nowadays but not necessarily the first solution to minor damage. San Jose Concrete Repair Contractors offer protective systems are now available for both indoor and outdoor surfaces such as pool decks, patios, driveways, and more. It is a great way of preserving the existing slab, reducing carbon footprint and landfill waste, while helping save time and money.
Nowadays, more and more people in San Jose California are relying on DIY repairs. While it is not prohibited, it is not highly recommended. If you want long-lasting results, it is best to leave the work to an expert. Although you might probably save from labor costs in a DIY, the time and energy you exert will not guarantee the results.
Top Options for Repairing Concrete
There are many ways concrete can get damaged. It can be through usage or exposure to something harmful. Fortunately, resurfacing and refinishing can easily repair surface damage. If the damage is anything deeper than the damage, say the steel reinforcement has become rusty and brittle, then a re-pour would be the best option. But for anything that only affects the surface, decorative concrete coatings and overlays can easily repair surfaces in San Jose, CA at a more affordable cost. Here are some of the most common issues and the recommended concrete repair San Jose for it:
Cracking on concrete in San Jose, CA are categorized into two types: working and non-working. A working crack is caused by something that moves, like water or soil, under the slab and often recurs. A non-working, on the other hand, is a crack caused by a one-time impact or anything that does not recur. A thin layer of stamped concrete overlay, spray texture, epoxy, or polyurea polyaspartic coating can fix small hairline cracks. For those a bit deeper and wider, products like a crack filler or sealant need to be applied prior to the resurfacing.
Scaling is the weakening of the surface, causing bits to chip off. There are many causes for this but the most common are freeze-thaw and deicing salt damage. A concrete mix can be used to fill the holes and then it can be resurfaced with a decorative concrete applications or overlay.
Stains can make any surface in San Jose, CA look dirty and unpleasant. Concrete also has the tendency to discolor, especially if it is quite old. If the slab is still pretty tough for further use, then staining it with an acid or water-based stain would be the best option. It helps disguise the stain while making the surface a lot more attractive.
Work with an one of the trusted decorative concrete contractors in San Jose California. Contact us at (408) 709-7256!
San Jose Concrete Resurfacing is a premier decorative concrete company and one of the trusted concrete contractors that specializes in driveway, patio, garage flooring concrete pool deck repair in San Jose, CA and many concrete services. Our team knows how to perform concrete repair San Jose efficiently, thanks to the decades of experience we have had in the industry. We know how frustrating it is to have to shell out big bucks to take care of damage. However, we guarantee that the cost of our services are worth the minimal investment. Let's talk about your concrete project. Contact our customer service today to learn more about our concrete services!
Call us today!