Concrete Coating San Jose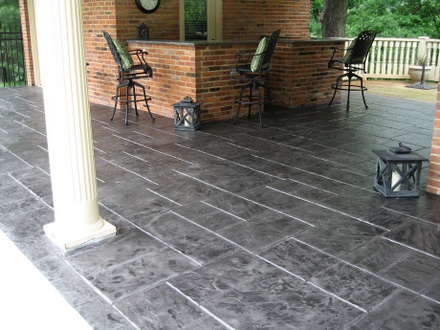 Is your concrete space looking unpleasant with all those surface issues? Or is it too plain and boring for comfort? If it is anything but what you desire, then it is high time to do something about it. If the damage is minor and surface deep, there is no need to remove the slab and replace it with a new mix. A layer of overlay or floor coating such as epoxy floor can effectively cover these up and give an old concrete slab a new look and better function.
There are many different materials out there that can be used to improve the look and function of a concrete slab. Tile, brick, stone, and other materials are popular and have been available for use for centuries. They are absolutely beautiful but terribly tedious and expensive. Concrete overlays or floor coatings give property owners the opportunity to enhance and improve their homes or business spaces at a price they are comfortable with. Although affordable, overlays create beautiful concrete floors that are durable, functional, and long-lasting.
Recommended Concrete Coatings for Indoor and Outdoor Surfaces
You don't always get what you pay for. Sometimes, great things come in affordable packages. Decorative concrete provide great aesthetics, durability, and sustainability. Here are some of the highly recommended solutions for resurfacing concrete:
Stamped Concrete Overlay – A natural stone entryway will definitely make any lawn and garden look amazing. However, stone is an expensive material. Fortunately, a stamped overlay can be designed to look like just about any type of natural stone pavement. With the addition of concrete stains, the resemblance to the real thing would definitely be uncanny.
Knockdown Texture -This spray-on coating system is popularly used as pool deck overlay because of its slip-resistant texture. We highly recommend i because it is also effective in reflecting heat back, making the surface cool to the touch even during the warmest day.
Epoxy Flooring– This floor coating is a popular material that is known for being tough and seamless. This concrete floor coating is ideal for industrial, commercial, and garage floor.
Polyurea Polyaspartic– For those who need floors resurfaced in the shortest time possible, polyurea polyaspartic is a great alternative to epoxy. It can be installed on your garage floor in one day and ready for use on the next day, cutting disruption in half.
Let's turn your concrete space into something fantastic. Call (408) 709-7256 for concrete overlay options.
There is nothing more frustrating than having to look at and walk on unpleasant surfaces. With the help of San Jose Decorative Concrete Resurfacing Installer, we can turn that around. We have been in the business of resurfacing concrete in San Jose for over 20+ years now. Our take pride with our team's right skill set and experience level to produce stunning results at an affordable cost. We also provide concrete floor repair and refinishing services for both residential and commercial locations in the San Jose, CA area.
Add value to your home today. Call or email us for a free consultation and quote on decorative concrete services.