Stamped Concrete San Jose Overlay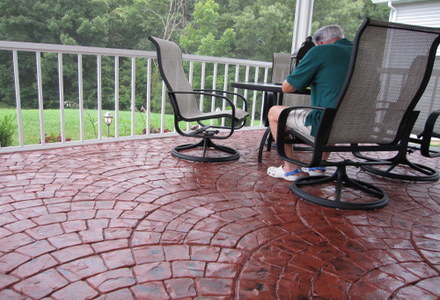 In the list of the world's most affluent cities, San Jose, California ranks quite high. Aside from its diverse population and culture, enjoyable events, and tourist spots, it is also home to some of the most beautiful homes in the country. Homeowners who wish to upgrade their home's outdoor ambiance just have to look down. Is the concrete surface damaged, ugly, or boring? If it is, a stamped overlay would definitely help.
Stamped overlays can be used on both indoor and outdoor surfaces in San Jose, CA but it is a more popular outdoor material because of the variety of paving materials it can resemble. It can be a red brick concrete driveway, a cobblestone walkway, a fractured slate patio, and even a wooden deck. When it comes to concrete stamped designs, the sky's the limit.
Benefits of Stamped Concrete Overlay
Why should you choose stamped overlay? Here are some of its most notable features:
A layer of a concrete overlay on an existing San Jose CA slab is a more inexpensive method of upgrading the surface.
Concrete stamping is done on newly installed slabs while stamping decorative concrete overlays are for old slab surfaces. This means an overlay can help reduce carbon footprint by minimizing cement production.
Regardless of pattern, a stamped overlay creates a non-skid textured surface perfect for safer walking or running, even when wet.
Browsing through San Jose California stamped patios, it is noticeable how easy it is to acquire the look of expensive materials.
Although it looks as impressively attractive as brick, flagstone, or whatever it is trying to mimic, it requires less cleaning and maintenance.
Applying Stamp Concrete Texture, Patterns and Designs
Just how is a stamp concrete patio created? Here is a rough look at the process of applying and stamping overlays:
Step 1: First, the existing slab is prepared. It may require washing, grinding, or sanding, depending on the state it is in. Repairs are also done at this stage.
Step 2: Once the surface is ready, cement is mixed and then applied onto the surface of the slab. It is leveled with a trowel to ensure that all areas are even. It is highly recommended to have a pro do this to ensure proper mixing proportions and bubble-less application.
Step 3: Stamp mats with the chosen pattern are laid onto sections of the fresh overlay, tapping it appropriately to make sure it leaves an imprint.
Step 4: The concrete stamp overlay is then left to dry. A stain can be applied to make the look a lot more decorative.
Step 5: To complete the installation, a layer of sealer is applied to protect the surface, enhance the stain, and add a bit of shine to the surface.
Ready to upgrade your pool deck, concrete patios or concrete driveways? Call (408) 709-7256 for all your decorative concrete stamping needs.
Do you have many San Jose concrete patio or new concrete work or concrete project ideas but little budget to work with? We'd love to help you out. San Jose Concrete Resurfacing is a leading resurfacing and refinishing concrete company that specializes in applying overlay stamps for concrete patios, concrete pool decks, concrete driveways, sidewalks, entryways, and more. A DIY patio cost may be cheaper but it does not come with a guarantee. Let a trusted San Jose, CA concrete contractor do it for you. We guarantee superior craftsmanship at an affordable price. Contact our customer service today! We are one of the trusted concrete contractors in the area!