Knockdown Texture San Jose CA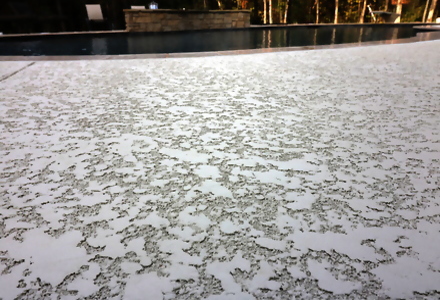 Summers are warm and dry in San Jose, California and there are about 301 sunny days a year. This is one reason why a swimming pool is a must-have for every home. Swimming is really good exercise. Also, a pool adds significantly more to a property's resale value. But it is not enough to have a great pool. It has to be framed in an equally gorgeous pool decking, too. The most common material used for pool decks are wood, tile, and stone. However, not everyone can afford to invest in this.
Fortunately, there is Spray Texture. This is an acrylic concrete coating that is meant to be sprayed on top of old or new concrete pool decks, giving it a new look and improved function. To help you determine if this is right for you, read on to know more about one of the most highly recommended pool deck resurfacing options.
Spray Texture Coating: An Overview
Spray Knockdown Texture San Jose CA is a type of resurfacing material that is sprayed onto a concrete surface. The concrete is prepared first before the coating is sprayed using a hopper gun. The bits of material on the concrete surface is then knocked down with a hand trowel just enough to flatten high peaks. This creates a texture similar to stucco, only thinner, and a tad smoother. This pool deck knock down finish is ideal as it is known to be a slip-resistant and heat-reflective coating. Professional concrete driveway contractors as well as resurfaced patios and pool decks.
Advantages of a Spray-Down Concrete Resurfacing
It is always ideal to weigh options before making a decision. So, why would a trowel finish be a perfect choice for concrete surfaces?
Slip-resistant – The knockdown texture provides proper traction, making it safe from slipping accidents.
Economical – In the past, damaged concrete is resolved by a complete replacement. This coating allows the existing slab to have a new look and more durable surface at a fraction of the cost of a re-pour.
Heat-reflective – Concrete absorbs heat. A spray texture reflects it. This means the surface is a lot cooler underfoot even after being exposed to sunlight for hours.
Low Maintenance – Cleaning outdoor surfaces can be quite challenging. With knockdown texture San Jose CA on concrete, surfaces are resistant to dirt and stains so expect cleaning to be a piece of cake.
Want to know more about Spray Knockdown Finish? Call (408) 709-7256 today.
When it comes to pool decks, not any material will do. It has to complement the purpose of the deck without compromising its visual appeal. We at San Jose Concrete Resurfacing are excited to share our expertise and experience with you. We have been in the concrete industry for decades, servicing the San Jose, CA area. Can't wait to upgrade your pool deck? Let us tell you more about spray-down concrete resurfacing first, before we get started with your project. Need decorative concrete ideas? We are just a call away.