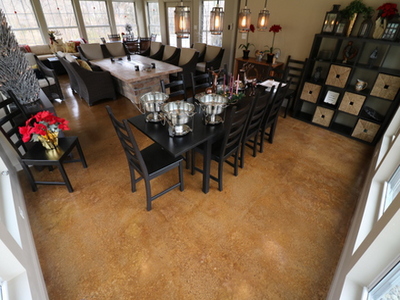 Isn't it frustrating to see ugly, damaged floors inside the house? It is easy to cover them up with carpet, tile, or wood but there is an easier and more affordable solution: Decorative concrete flooring. Using overlay concrete and coatings, interior floors are resurfaced and then customized to make it a lot more attractive and more functional. The great thing about this method is that the existing San Jose concrete floor is preserved, thus, reducing carbon footprint from concrete production.
Remember how indoor floors in San Jose are often covered in wood tiles or wall-to-wall carpets. Although these materials are visually pleasing and definitely homey and comfortable to walk on, they are a drag to clean and maintain. Wood tiles require a wood stain, some waxing, and buffing. Carpets require vacuuming and shampooing from time to time in San Jose CA. If you want great-looking floors that stay that way even with minimal maintenance, decorative concrete is the top choice.
Highly Recommended Decorative Concrete Interior Flooring Options
Interior concrete floor may not be as exposed to damaging elements as outdoor concrete surfaces but it does wear and tear, especially with heavy foot traffic. Resurfacing concrete is more affordable than other flooring options because it requires little material and is easier to install. Homeowners will surely delight at how much easier it is to clean and maintain resurfaced floors. Here are decorative concrete coatings and overlays ideal for use indoors:
Stained Concrete Floors– Depending on the preferred look, concrete floor owners could choose from an acid or water-based stain. Acid stain causes a chemical reaction sd it penetrates the concrete slab. The result is a mottled, variegated look that is similar to stone and leather. As for a water-based stain, the colors dry into an opaque finish. There is no chemical reaction involved so the stain color doesn't change. This is ideal for specific floor graphics and designs.
Metallic Epoxy Floors – The garage floor is probably the only interior floor that does not get enough care and attention. With all the beating it goes through, it, too, deserves a good makeover. Epoxy is a two-part material perfect for garage floor resurfacing. It cures to a very hard, nonporous surface that is easy to clean. It hardens to a smooth, seamless beauty but can be customized further with micro paint chips or flakes for a terrazzo-like appeal.
Polyurea Polyaspartic Coating – Aside from concrete polishing, another highly recommended coating for fixing concrete is polyurea polyaspartic. It is a super tough floor coating that dries a lot quicker than other floor coatings. In as little as a day, this coating is cured, hardened, and ready to use.
Are your interior floors in dire need of a resurfacing? Call (408) 709-7256 today.
It can be quite a discomfort having to walk on unpleasant floors inside your home. Aside from being an eyesore, any damage could be unsafe for kids and pets. We at San Jose Concrete Resurfacing, Concrete Flooring Contractors San Jose, cares about your welfare so we made it our commitment to provide affordable concrete floor repair solutions such as polished concrete that provide durability and utmost appeal to all types of interior concrete flooring. Please feel free to give us a call if you have any inquiry or quote request. It is our pleasure to be of service to you.
Concrete is warmer than most flooring materials during cool seasons but colder than tile during warmer climate. This is why it is a sustainable flooring material for both indoor and outdoor use.
Sealing the concrete is very important. Concrete is porous and the sealer fills in the pores, keeping moisture and dirt from penetrating the slab. However, even with a sealer, it is a must to wipe off spills immediately just to make sure that it does not affect the floor.