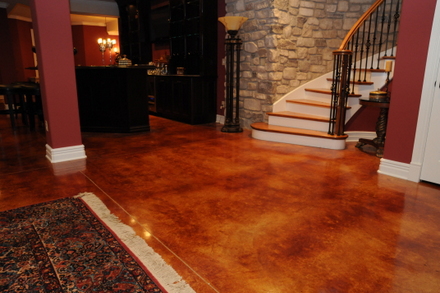 When it comes to luxury, concrete surfaces aren't necessarily the first thing that comes to mind. But they also deserve to look luxurious, even concrete types. In affluent San Jose, CA luxurious-looking surfaces are a necessity. Marble floors in the living room, wall-to-wall carpets in the bedroom, and other high-end materials installed indoors and out. Although they look heavenly, they can be a pain to maintain. Such interior floors require specific cleaning instructions and tedious maintenance in order to keep it looking great. Not everyone has the time or energy for that. Plus, it can be costly. Fortunately, there is an affordable alternative- staining decorative concrete.
Concrete staining old concrete pool decks, patios, or interior floors transforms them from being plain and boring, giving anyone a reason to smile and dance and feel all warm and fuzzy inside. Let's learn more about the two types of decorative concrete stains: Acid and Water-based.
An acid stain is a reactive refinishing solution that creates unpredictable shades, tones, and effects on a San Jose CA concrete surface. This reaction happens when the stain's metallic salt content comes in contact with the slab's natural lime content. The acid stain application process involves neutralizing and rinsing the surface, to ensure that its natural pH is maintained. Some of the top benefits of acid staining are:
Aesthetics – Unique, antiquated, marbled, mottled, and semi-translucent. These are just some of the popular adjectives that aptly describes acid stained concrete. Perfect for stained concrete driveway, patios and interior concrete floors.
Long-lasting – This type of stain penetrates the slab. There are zero chances for it to fade, flake, or peel off.
Low Maintenance – As long as the stain is properly applied and sealed, it is easy to clean and maintain stained surfaces.
Water-based Concrete Staining
Another type of stain is the water-based kind. This is a non-reactive solution that is topically applied on concrete surfaces. Although it does not penetrate as deep as an acid stain does, it penetrates deep enough to prevent fading. What are the perks of a non-reactive stain?
Aesthetics – Water-based stains come with a larger color palette, consisting of bright and vibrant hues. This is an appropriate stain for specific designs, like logos and images.
Environment-friendly – Because this stain is water-based, it is safe to use around humans, pets, and plants.
Easier to Install – Neutralization and rinsing are not part of the water-based stain installation process. Thus, saving a significant amount of time.
Do you want to know more about decorative concrete staining? Contact us @ (408) 709-7256 now!
Staining concrete is probably one of decorative concrete patio ideas, pool decks, and other decorative concrete floors. Although simple, the results are quite arresting. To make sure you get the best results, hire San Jose Concrete Resurfacing to do the job. Our decades of professional experience is highly reflected in each decorative concrete surface we handle. We treat your property as if it is our own so we make sure it looks breathtakingly luxurious. Experience the beauty of colored stained concrete. Give us a call now.
Stains penetrate past the surface so it is less unlikely to fade, flake, or peel off. A layer of sealer can help enhance the color and make it last longer.
The basic stained concrete cost may range between $2 to $4 per square foot. This would involve the use of one color. Costs may go up with two or more colors, specific designs, and more square feet of space.