Concrete Driveway San Jose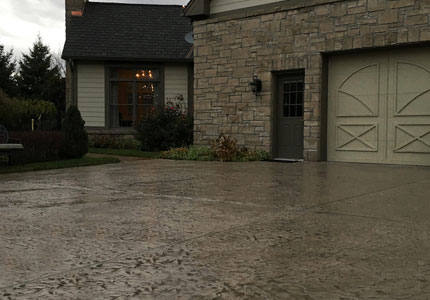 A decorative concrete driveways are more than just something ornamental. It is a graceful welcome to someone arriving at the driveway. It helps enhance the curb appeal of a property. It boosts slip-resistance and traction. No matter what overlay is applied to a driveway, the beauty and function gets better. Property owners in both San Jose residential and commercial settings would surely appreciate the affordability, durability, and aesthetics that decorative resurfacing provides.
Decorative concrete coatings are definitely heaven-sent. These transform old and unpleasant San Jose CA driveways into something breathtaking. Installing new concrete in San Jose can be quite a hassle, with all the concrete removal, re-pouring, and curing involved. If the existing slab is still in good shape, restoring it back to use while enhancing its current look is a wise and practical recommendation.
Driveway Resurfacing, Repair & Refinishing Solutions
It is a known fact that concrete is as reliable as time itself. However, when wear and tear begin to show on the surface, it is important to repair it before it is too late. San Jose driveway resurfacing or refinishing is recommended for surface damage, it is an alternative to a complete slab removal and re-pour. It is less expensive, easier to install, and comes with more decorative choices than any other paving material.
Concrete Stamped Driveways – Want the look of flagstone at a more affordable price? Stamped concrete overlay can do that. San Jose professional concrete contractors stamped concrete with patterns and then stain the surface to efficiently replicate the look of whichever material it is substituting. Other patterns include brick, pavers, cobblestone, interlocking pavers, concrete pavers, and more.
Stained Concrete – Want an antiquated look on your driveway? Acid staining can look the part. Acid stain is a reactive coating that creates random effects, shades, and tones as it penetrates the surface. Water-based stains, on the other hand, is an ideal alternative to paint because it does not peel or flake off.
Troweled concrete Finish – Loaded into a hopper gun, the acrylic cement coating is sprayed onto a surface before being manually trowelled. This method of applications contributes to its unique knockdown texture that is similar to that of stucco. It is also because of this texture that it stays 30% cooler than other paving materials.
Explore the perks of a driveway decorative concrete? Call (408) 709-7256 for more information.
You can browse all you want for driveway concrete ideas in the magazine. Do you see something you want but can't afford? There is a more affordable alternative. We at San Jose Concrete Resurfacing provide economical solutions to concrete damage like cracks, flakes, etc.. Our expert concrete driveway installers do more than just repair, resurface and refinish. They also give you a more beautiful driveway, an enhanced curb appeal, and a more valuable home. But don't take our word for it. Give us a call to learn more about our concrete services. We offer free estimates!
Frequently Asked Questions
Deicing chemicals force thawing and freezing of moisture on the concrete and this can be damaging on the surface. The most common effects are spalling and scaling. If you must enhance traction on the driveway during winter season, use sand instead.
Although asphalt was the most common option, decorative concrete provides more benefits. Asphalt has a tendency to heat up and melt. It also has a shorter lifespan than concrete driveway coatings and overlays.