Polished Concrete San Jose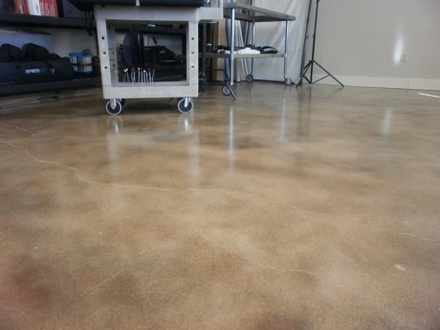 In the world of residential, commercial, and industrial remodeling, polished concrete is creating a craze. Polished concrete surfaces require minimal maintenance and repairs. The polished look stays put, not requiring any waxing or buffing as waxed surfaces do. It provides a high traction concrete floor that is durable and stunning. This inexpensive option can be used on almost any San Jose concrete surface, be it indoors or out.
Polishing concrete is like sanding wood. The surface is ground with abrasive pads that progress from coarse to fine. There are two ways of polishing slabs: the wet and dry method. The wet method keeps flying dust to a minimum and keeps the polishing equipment cool. This, however, produces a sludge that can be difficult to dispose of. The dry method will send dust flying all over the place, however, a vacuum can be set up to suck the dust in before it goes airborne. No matter which method is used, impressive results are guaranteed.
Advantages of Concrete Polishing
Many people in San Jose would testify to the fact that concrete polishing is an ideal option for interior concrete floor. However, it is important for interested property owners to know what is in it for them. Here are the most notable advantages of a polished concrete surface:
Versatility– Whether the concrete surface is inside or outside, be it in a residential, commercial, or industrial location in the San Jose, CA area.
Durability– Concrete has always been a durable material. As long as it is properly installed, it could stay intact for several years.
Environment-Friendly– Concrete Polishing in San Jose does not involve any hazardous chemicals that may affect the environment. Since polished surfaces are often sealed for added protection, there is no way mold, mildew, or any type of allergen could breed and grow in the pores.
Affordability-Because there are no new materials involved, the price of concrete polishing is lower than other paving or flooring options. It is also a more affordable concrete repair option than a complete slab removal and replacement.
Easy Upkeep-Polished concrete floors require minimal cleaning and maintenance. It retains its shine even without regular waxing and buffing. All you need to do is sweep dirt off and mop occasionally to remove stubborn dirt.
Reflectivity– Shiny concrete floor reflect light and create the illusion that there are more lights in a room than there actually is. This high reflectivity makes a room 30% brighter than it really is.
Short Downtime-There is no curing or drying time to deal with in a San Jose concrete polishing project. As soon as the surface has been cleaned and the sealer has dried completely, it is ready for use.
We're more than happy to talk to you about your concrete's potential. Call (408) 709-7256 to learn more about Polished Concrete.
When it comes to the best Concrete Flooring Contractors San Jose, nothing compares to San Jose Concrete Resurfacing. Regardless of the size of the job or whatever demands you may have, we would love to discuss it with you. We know you deserve budget-friendly but luxurious spaces. Call or email us for a complimentary consultation and quote.
Yes. A concrete surface can be colored before, during, or after the polishing process. It may depend on the type of coloring agent you choose. Consult a pro to find the right coloring method that would yield your preferred results.
Costs may vary depending on several factors, such as the size of the job, the condition of the concrete slab, the required grinding level, and more.
No, there are ways to improve traction, such as sealing it with abrasives.