Colored Concrete San Jose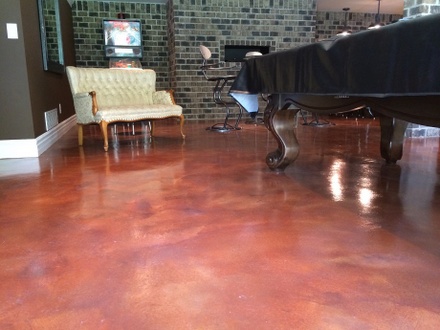 When you think of concrete, the first sight that comes to mind is a gray, utilitarian slab material. Although its utilitarian look is something that some modern or industrial design enthusiasts would be happy about, some property owners prefer something more vibrant and artistic. In the past, painting the slab is enough to add color to it. Nowadays, there are more efficient colored concrete options.
It is quite fortunate that concrete, one of the most durable and affordable material in the world, is also the most versatile. Compared to paint, the concrete coloring options available today produce more aesthetic results with long-lasting colors. There is a wide range of colors to choose from, which can be mixed and matched for more decorative concrete designs such as stamped concrete. You can even incorporate patterns and designs for a more customized surface.
Why Opt for Colored Concrete?
Colored concrete is a popular method for revamping old surfaces and enhancing newly poured slabs. Here are a few of the most notable reasons why colored concrete in San Jose CA is such a highly recommended option:
Variety of Colors – The sky's the limit when it comes to the broad range of colors available for property owners to choose from. From natural earth tones all the way to bright and cheerful pastels, there is something for every type of taste and preference.
Can Mimic Nature – Some coloring agents create chemical reactions that make San Jose concrete look like a natural stone slab. Manual application can also acquire a natural rock look.
Masks Off Stains and Discoloration – If existing slabs suffer from ugly stains and discoloration, coloring the surface could disguise such blemishes and give the surface an improved and enhanced appearance.
Economical – Coloring concrete provides improved form and function with minimal materials, labor, and installation time.
Decorative Options for Coloring Concrete
Stained Concrete – Acid stain concrete is a decorative concrete solution that creates long-lasting colors on well-prepared slabs. Acid stains involve chemical reactions that create unique effects, creating a mottled and variegated look that falls somewhere between natural stone and leather. Water-based stains, on the other hand, dry to a more consistent color and look.
Integral Color – This coloring agent is designed to be mixed into the concrete mix prior to pouring. It requires a considerable amount to be able to make the color manifest. Although the colors are light and subtle, they won't fade, peel, or flake off.
Dry-Shake – This is a powdered coloring agent that is scattered onto a newly poured slab. The color integrates itself on the surface, creating an intense layer of color, until the concrete dries and cures.
Dye – This comes in two types: solvent and water-based. The colors dry to a very translucent color. Although it produces great aesthetics, it does not cover up spill stains and discoloration.
Work with an expert San Jose CA concrete repair contractor. Call us at (408) 709-7256 today.
San Jose Concrete Resurfacing is a premier installation company that specializes in decorative concrete stamping driveway repair, patio resurfacing, and many other solutions. Our decorative concrete team knows how to perform repairs efficiently, thanks to the decades of experience we have had in the industry. We know how frustrating it is to have to shell out big bucks to take care of damage. However, we guarantee that the cost of our San Jose services are worth the minimal investment. Let's talk. Call us. You can also follow us through or social media accounts!