The cost of resurfacing a pool deck would entail labor cost, materials, and your time and effort. It may feel too much, but when all these factors play into the right managers and experts in the field, it will be worth all of it! As any refinishing pool deck, and any repairs these processes do not come cheap.

So, dive into today's blog to know how you can balance and manage your pool deck resurfacing to have it worth your cost.
How much does a pool deck resurfacing cost?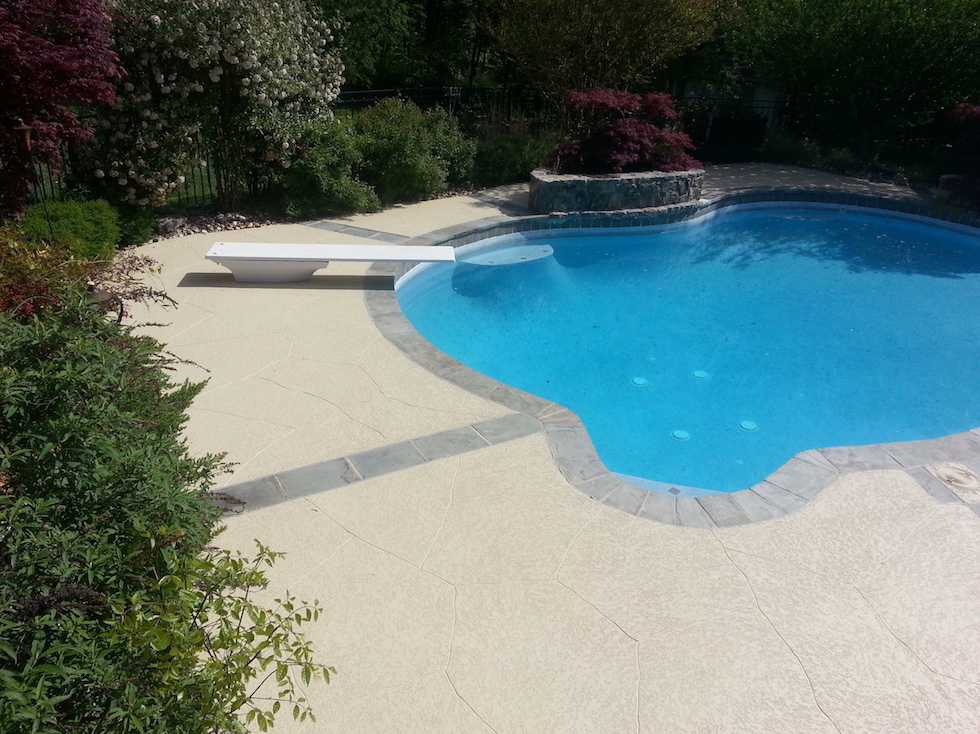 All interested in resurfacing and pool refinish projects would be concerned about how much they pay for the entire process. 
The average pool deck resurfacing cost would total $7,000 per 1,000 square feet for this year and onwards. That is for US locations. That can be the basis for your project wherever you are located. 
But the actual cost for each unique pool owner will vary. Depending on the pool size, materials, and necessary preparations like repairs and crack filling, the final total expense will downgrade or add up. 
Here is a quick breakdown of various pool deck refinishing and resurfacing options.
Basic Refinishing

Concrete Resurfacing

Decorative Overlays

Crack Repairs
To avoid that sinking feeling when trying to manage your pool resurfacing needs, list and take note of the options you have for reinventing the pool's look. You can apply treatment from the simplest to a more complex process, such as changing the entire decking material.
1. Concrete pool deck refinishing cost
Concrete refinishing is a more straightforward method than resurfacing an entire material. That will give you a cost ranging from $2.5 to $25 per square foot. Refinishing is a method that revives a deck's sheen, color, and vibrancy without changing the original exterior material.
2. Concrete pool deck resurfacing cost
Concrete resurfacing allows you to have options. And sure, you can find from these methods an application that will fit your budget. First, get to know the types of concrete pool overlays.
Types of concrete pool deck overlays
Pool decks wear and tear over time due to heavy use. A cost-efficient solution is a concrete overlay to repair damaged outdoor concrete surfaces. 
Refinishing an existing concrete with stamps allows choosing from different patterns and designs.
1. Stamped pool deck cost
The stamped concrete will cost from $6 to $8 per square foot. You can install stamped overlays to existing stamped pool decks. Or you may resurface a different material with this one.

2. Stained pool decks
Maybe you would only like to have a simple, polished look over the decks. Or you may get a previously installed stamp and need to restore its natural beauty. You can do so with staining. 
The cost of stained pool decks ranges from $2 to $6 per square foot.
3. Textured Pool Decks
The exposed aggregate will belong to these textured overlays. In contrast to stained and stamped, the textured concrete finishings will create a rough to coarsely-smooth feel over the decks. Have this and get a sense of smooth river stones massaging your feet. 
The price range for textured overlays installation is $ 1,000 to $1,800 in total. This range included material and labor costs.
Tips in calculating the cost
List down all necessary parts, materials, labor, time and schedule, other fees.

Do not forget to add up to the ist other costs. This will include contract fees, permits, and other documents to show the legality of your project.

Be aware of how long the project will take you. If you need to have a quick resurfacing, go for a much more straightforward job.

Plan your project with an expert. Do not hesitate. If you need to call a professional contractor, then call one. This is to guide you on the materials and processes you'll need.